On the 26th of May, 2023, we said goodbye to a sweet, gentle soul, mentor and comrade, Andrew R. Penhallow.
Founder of Volition Records.
"I lived for my art, i lived for love"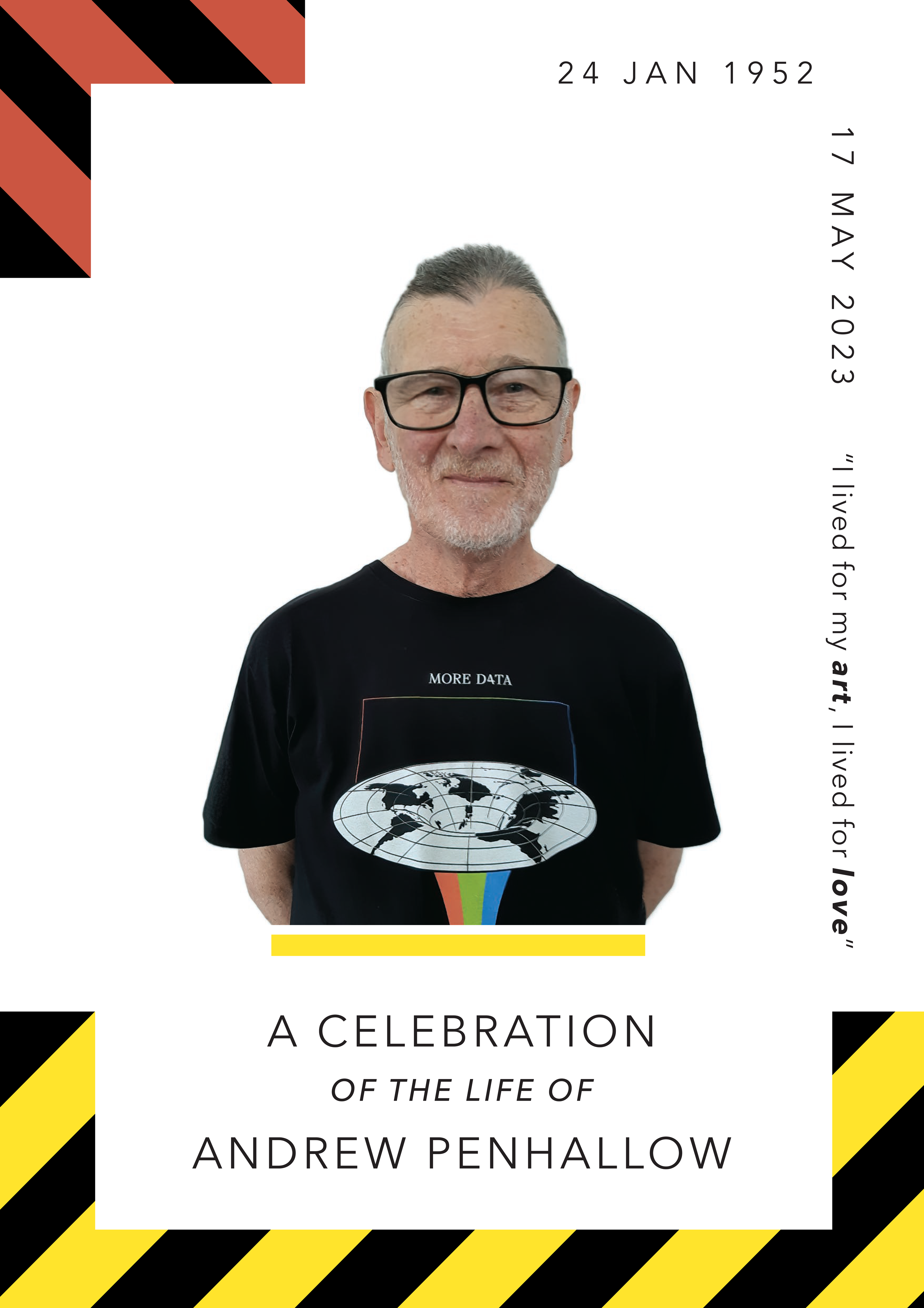 Hi I'm Dave,
I have a little electronic band called Boxcar, i still dabble in electronic music quite a bit and collaborated with Andy a lot both in the late 80's through to
1996 and more recently again in the last 6 or so years. That's been a real source of joy for me. Andrew has believed in me as a producer, composer, remixer.
These days i create TV and film music and sound with my partner Alison. (PHD!).
I'll to try keep my comments brief. I loved Andy, i think he was fond of me.
Andy loved Robert Racic, DJ, Producer and artist. Trailblazer in dance music.
Andy and I were creative comrades, collaborators. The Volition office had a sense of family, of creating and releasing exciting eclectic fresh electronic, house & indie rock music. The Volition team, led by Andrew, Chris, Leah helped rocket the careers of artists in this room and beyond.
Andy with Robert Racic as our producer, propelled my band's debut album, and all three singles from it to the top 10 US billboard dance charts in the early 90's.
We went to New York, toured Asia, went to the UK, we charted the waves from late 80's synth pop, rave and house.
We toured with the Pet Shop Boys, New Order, Depeche Mode, toured Australia in the original Boiler Room.We collaborated with the Pet Shop Boys' team, met & were remixed by legends like Arthur Baker & Francois Kevorkian (known for his legendary production from Midnight Oil, Depeche Mode and Kraftwerk - yes! even the Bangles and Simple Minds). We were remixed by legendary UK DJ Producer Justin Robertson..

Andrew had the vibe. He was vibe.
We used to get lost down backstage corridors and shout quotes from Spinal Tap, which is like the bible of the music industry.
We never took ourselves too seriously and neither did he.
None of this without Andrew. We laughed a lot, we enjoyed a meal.
Recently he even came down from his beloved Blue Mountains retreat with Virginia to support me DJ'ing to a packed room. 'Good Dave'.
I can't think of any higher praise than someone literally being a culture shifter, an innovator, and most critically someone who connects, guides and and raises talent to success. I cant even begin to tell you how much I'll miss our Andy, AP. My condolences to Virginia, all his family, friends, collaborators and comrades. We'll all miss him so very very much.
X Dave Smith (Boxcar).